Munich Re's Location Risk Intelligence Platform On-Demand includes the Climate Change Edition with 7 hazard perils and scores for different timepoints and RCP scenarios for future-related assessments on the basis of climate change models. In addition, 12 hazard scores and 4 risk scores are included to generate assessments on the basis of data from past events. This solution lets you assess natural hazard and climate change risks of individual assets/locations and download a detailed report.
Hazards are constantly increasing and caused losses of over US 280 billion worldwide, in 2021 alone. However, you can significantly reduce the risks you have to take with the help of Climate Change Edition. It's based on the world's most comprehensive collection of natural hazards data, climate change data and over 140 years' experience of the world's largest reinsurer.
To start your risk assessment for an individual location, use credits which can be purchased directly on this website.
Available climate change scores:
Tropical Cyclone, River Flood, Sea Level Rise, Heat Stress, Drought Stress, Precipitation Stress and Fire Weather Stress for RCP Scenarios 2.6, 4.5 and 8.5 and years 2030, 2050 and 2100.
(Tropical Cyclones & River Flood not for RCP 2.6, Sea Level Rise only for year 2100)
Available hazard scores:
Earthquake, Volcano, Tsunami, Tropical Cyclones, Extratropical Storms (winter storms), Hail, Tornado, Lightning, River Flood, Flash Flood, Storm Surge, Wildfire
Available risk scores:
Overall, Earthquake, Flood and Storm
General information:
Elevation, Population Density, Distance to Coast, Distance to Active Fault and more.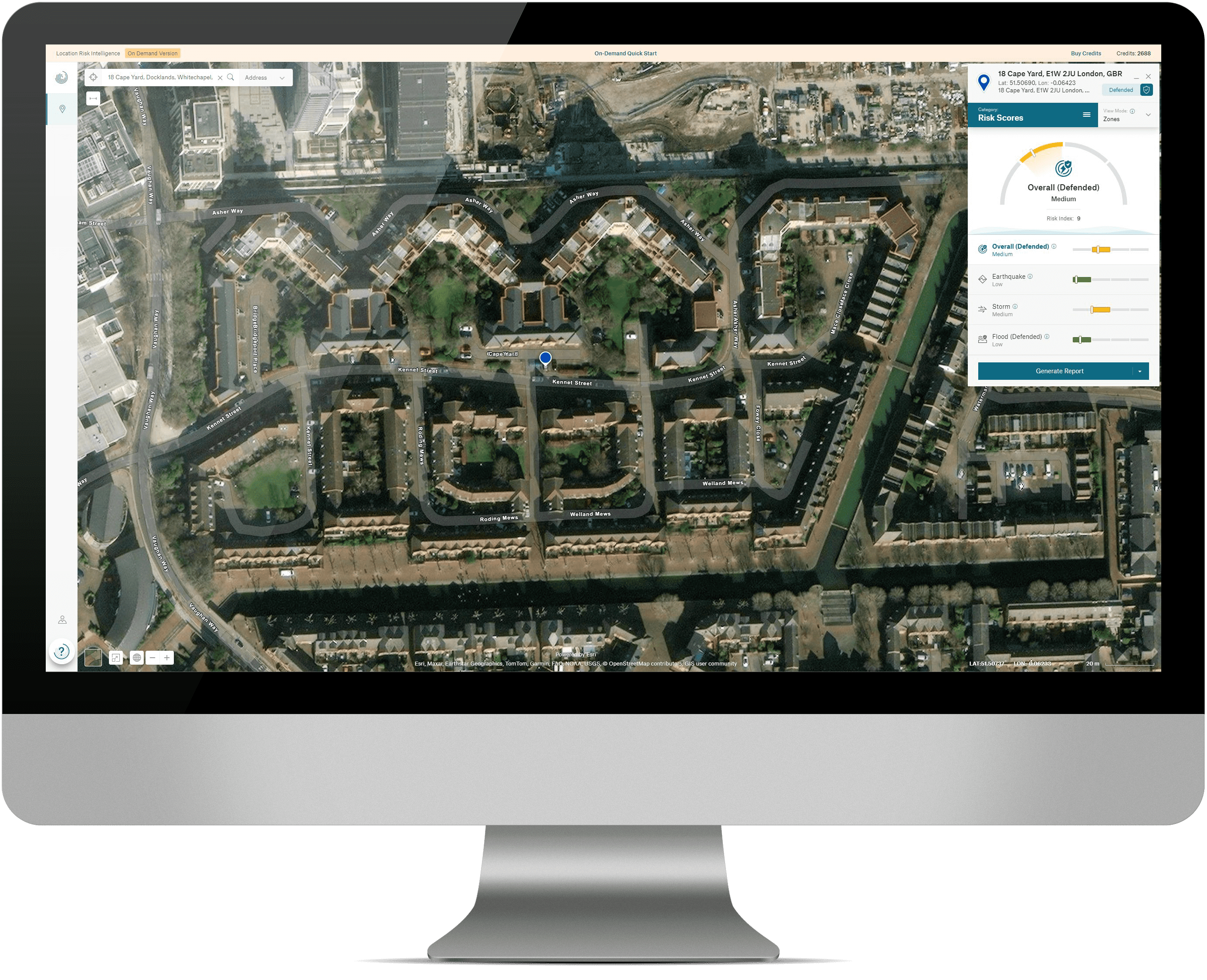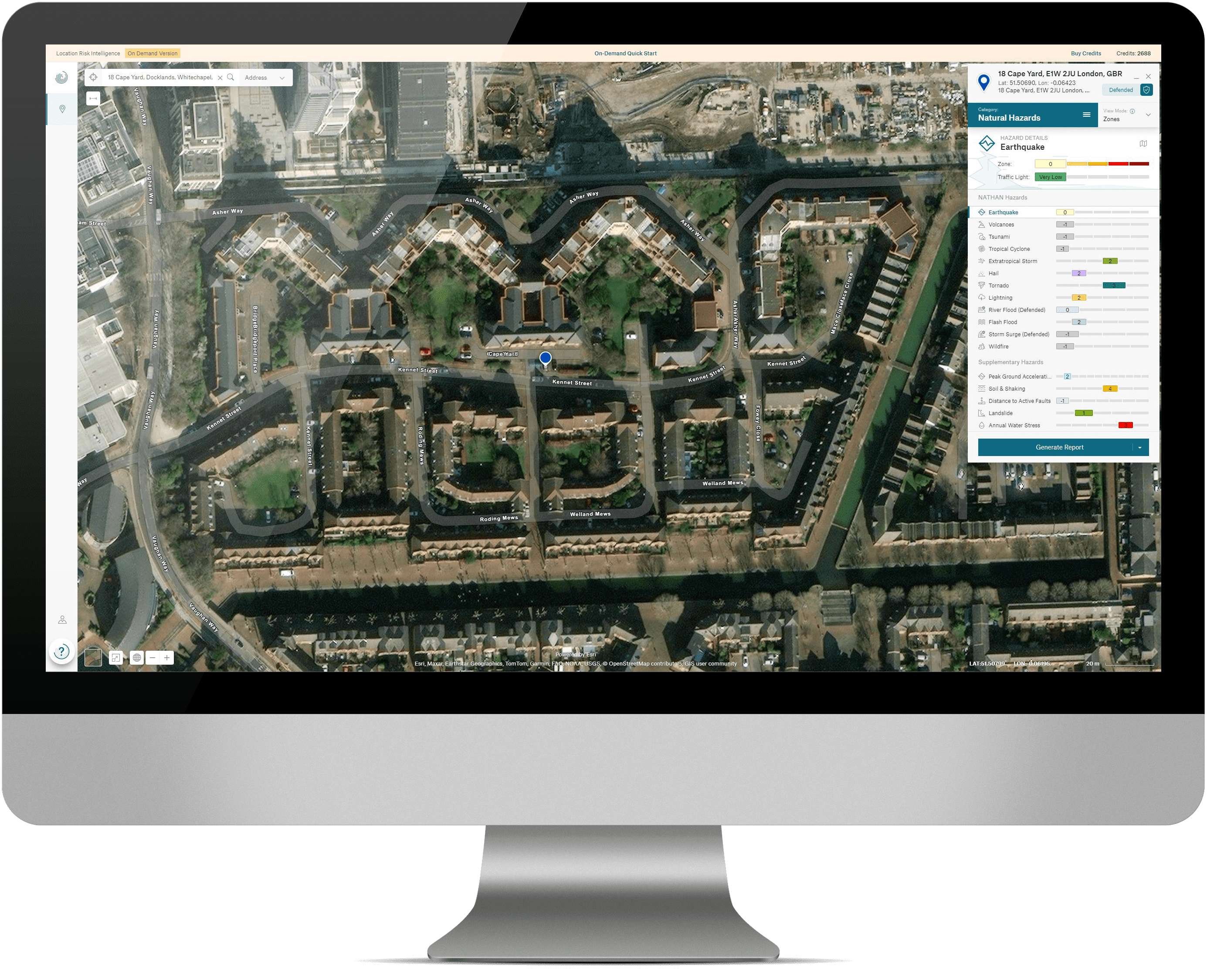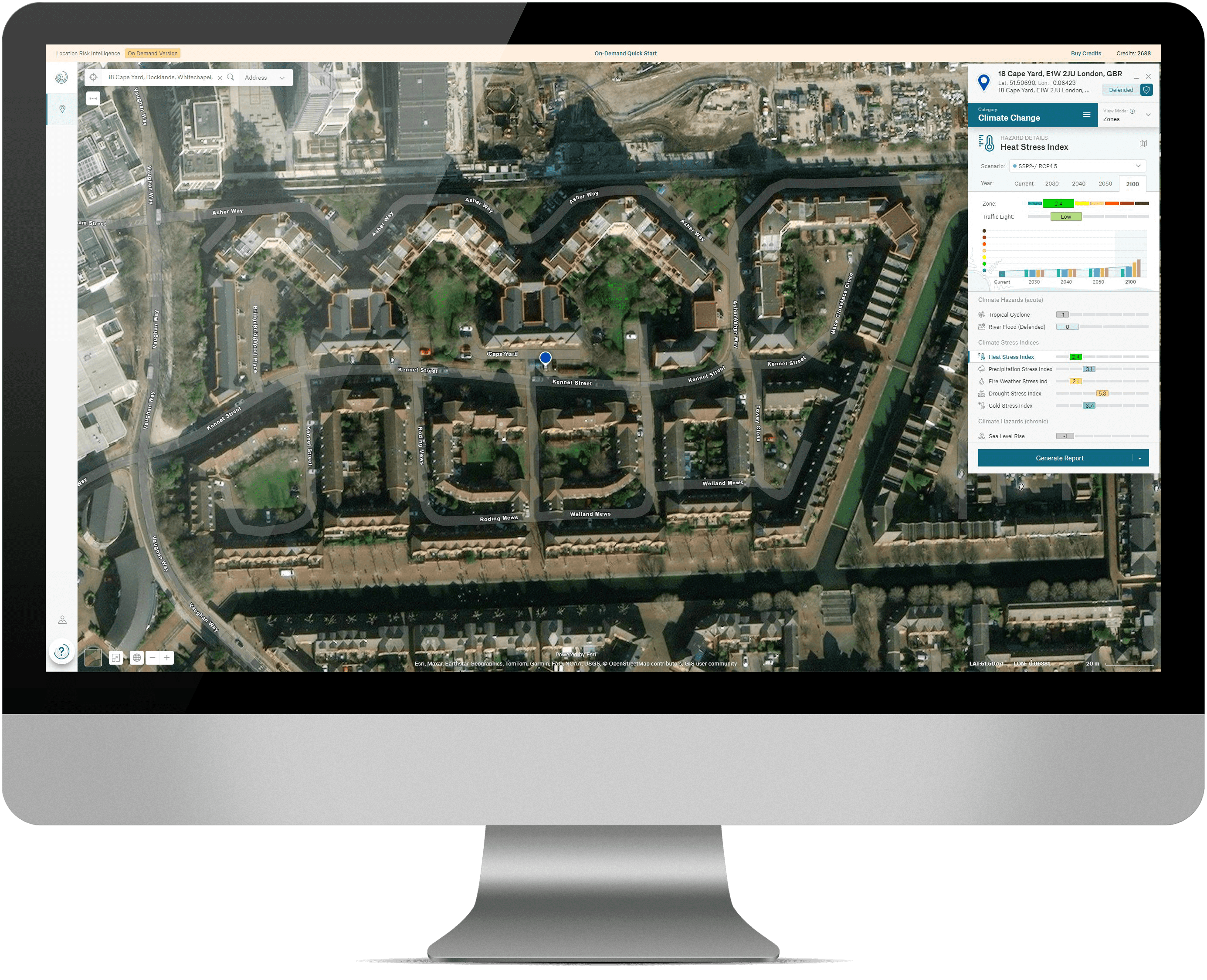 Download your risk assessment as a meaningful report
We offer three file formats for this purpose: PDF, CSV or Excel. By the way, we save your reports for you for two weeks.
So you can first check all the locations and then download and save them at your leisure.
3 simple steps to assess the risks for any location in the world. Get started now…
1
Create an account
for yourself or your company, buy some credits and off you go...
2
Enter any address or coordinate
As soon as you have entered your desired address or coordinates in the search field, our tool zooms to the desired position, displays the selected address as well as its coordinates.
As soon as you press the "Calculate Scores" button and confirm the chargeable query (48 credits per location), the risk assessment starts immediately.
3
Ready
Only seconds later, all determined risks are displayed in a clear list in the form of bars with four colour-differentiated classifications ranging from low to extreme.
Now you can simply download your results as meaningful reports in PDF, CSV or Excel format (we store them for you for another 14 days) - and start directly with your next query.
Assess more locations and pay less per assessment
720
Credits1
900.00 €
(15 locations at 60 €)
You save 600 €2
1200
Credits1
1200.00 €
(25 locations at 48 €)
You save 1300 €2
1 A single location lookup costs 48 credits | 2 Compared to the 240 credits package
Benefits of Location Risk Intelligence On-Demand
Easy input – great output
Simply enter any address in the world or the corresponding coordinates to instantly receive a risk assessment with more than 100 values.
They are summarised in an overall risk score as well as in three risk subgroups (earthquake, storm and flood risk score) for current risk interpretation.
Download reports
As a result of your search, all identified risks are presented in a clear table with bars visualising the different hazards and risks from low to extreme.
Each of your risk assessments can be downloaded as an informative report in three different formats (PDF, CSV and Excel).
Analyse your assets in seconds
High-speed data processing for fast and reliable assessment of risks that may arise from natural hazards. And all this as an on-demand solution that gives you the greatest possible flexibility.
Largest global data collection on natural hazards
Benefit from over 40 years of Munich Re's natural hazard data collection, combined with state-of-the-art scientific climate change models and datasets for relevant risk assessments.